Our Waterproofing System
Basement Systems has developed the most effective and long-term solution for wet basements.

Our Sump Pumps
Our Sump Pump Systems are sealed and engineered to GET WATER OUT!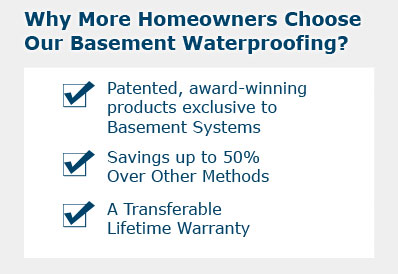 Basement Waterproofing in Greater Omaha
Wet Basement Solutions in Nebraska, Western Iowa & Northwest Missouri
Basements, by nature, are imperfect concrete structures built in unstable soils of varying density and compaction.
For over 100 years troubled homeowners have battled the water trapped in soils surrounding their home from leaking and seeping into basement levels through walls, floors and joints.
Thrasher Basement Systems has conquered these challenges and today, with access to over 23 of Basement Systems Inc.'s patented products, provides a variety of solutions to ensure your basement stays clean, dry and odor free.
We offer Free Basement Waterproofing Inspections and Estimates – schedule yours today!
Dealing with standing water in your basement?
Insist upon the non-clogging WaterGuard interior drainage system and a wet basement is a thing of the past. Don't rely on old, easily clogged french drains using turn of the century waterproofing knowledge - make sure you get the best patented technology on the market today.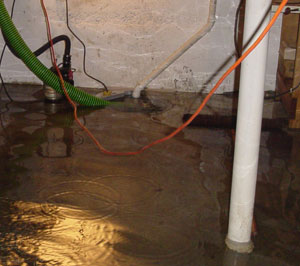 Want your basement dry all the time?
Check out the TripleSafe Sump Pump System – the best option available to keep your basement dry all the time – no matter what the weather. Never have to worry about water escaping a clogged discharge line with our IceGuard® System.
Damp and musty odor?
Eliminate the leading cause of odors – high humidity and other indoor air allergens – with the SaniDry Basement Dehumidifier and Air Filtration System.
Unsightly walls?
BrightWall Basement Wall Panels provide not only a vapor barrier for basement walls, but a clean, bright and maintenance-free solution.
Preparing your basement walls for finishing?
Restrict moisture and water vapors from entering your basement via walls while insulating at the same time with the ThermalDry Basement Wall System.
Want a dryer, healthier, more comfortable floor surface in your basement?
Turn a cold, damp, hard concrete floor into a dry, comfortable floor, suitable for carpet, with ThermalDry Basement Floor Matting. Or, finish the basement floor with ThermalDry Carpeted Basement Flooring or ThermalDry Tiled Basement Flooring.
Leaking window wells?
Eliminate flooding from inefficient windows and window wells with the WellDuct Window Well Drain from Thrasher Basement Systems, Inc.
Thrasher Basement Systems fixes leaky basements in Nebraska (including the greater Omaha, Lincoln, Norfolk, Bellevue, Carroll, Columbus, Grand Island, Hastings, Kearney, North Platte, and Fremont), Western Iowa (including Fort Dodge, Council Bluffs, and Sioux City), Northwestern Missouri (including the greater Maryville area). Contact us today for a Free Wet Basement Inspection and Estimate.
Customer Review
By William &.
Stanberry, MO

"The crew was very professional and courteous. They did a super job of..."

By Jane Z.
Fort Dodge, IA

"Ryan was very thorough with his explaination and Mike and his crew really..."

By Jane Z.
Fort Dodge, IA

"All of the employees I came in contact with were very knowledgable,..."

By SUSAN P.
Fort Dodge, IA

"I was disappointed to find out that we needed support on the other side of..."

By Beth J.
Fort Dodge, IA

"Thank you for providing the service to my home recently."

By Jane Z.
Fort Dodge, IA

"Your company has an excellent reputation and I believe they will solve..."

"Everyone at Thrashers is very friendly and fun to work with."

By Donna R.
Maryville, MO

"The 3 men that came to do the job were excellent. They put down plastic..."