Radon Gas Mitigation In Nebraska, Iowa, and Missouri
The #1 Cancer Risk at Home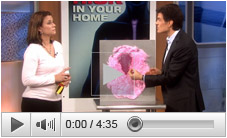 See Dr. Oz discuss the dangers of radon with Rebecca Morley, Executive Director of NCHH.
If you believe that radon gas is intruding into your home, it's time to take action against it. Thrasher of Nebraska, Iowa, and Missouri can help you, by providing radon testing and a quote on the cost of a radon mitigation system in your home.
Factors That Lead to a Radon Problem:
How potent the radon source is
How easily the radon enters in
The building's ventilation rate
It's easier than ever to get your home tested for a radon problem! Thrasher can perform an inspection and conduct a radon detection test in your home in as little as two days!
To contact us, call 1-800-827-0702 or contact us online today! We serve Nebraska, Iowa, and Missouri, including Hastings, Columbus, Beatrice, Papillion, Maryville, Spencer, South Sioux City, Carroll.
Video Testimonial
Radon Facts

As cancer-causing as tobacco smoke & asbestos, causing 15,400-21,800 deaths yearly.
Radon level at which a mitigation system is needed:

4 pCi/L

Low-level radon exposure over time is more harmful than short periods of high-level exposure.
Radon concentrations are up to ten times higher during the winter.
Customer Review
By Linda D.
Spencer, IA

"None, we were very pleased with the workers, Dustin and Chris, who were very respectful and pleasant to have come into our home."
Your Radon Mitigation System Installed
Thrasher's radon mitigation systems use sub-slab depressurization to reduce radon levels.
How Mitigation Systems Work
PVC pipe collects soil gasses
Radon is piped upwards in the building through the stack effect
A radon depressurization vent forces radon gas out of your house
Listen to an interview between Scott Voorhees and Thrasher's own Shane McClintic
As a full-service radon mitigation contractor, Thrasher can also install a radon mitigation system that is compatible with the current waterproofing system in your basement or crawl space.
For a radon testing or radon abatement cost estimate, contact Thrasher today. We provide indoor air quality services throughout Omaha, Lincoln, Sioux City, Grand Island, Bellevue, Council Bluffs, Norfolk, Fremont, North Platte, Kearney and nearby cities in Nebraska, Iowa, and Missouri.